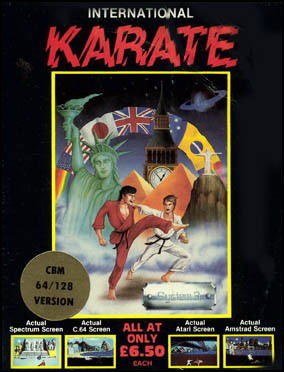 International Karate: C64-karate i høy klasse
Lansert: 1986
Utvikler: System 3

C64-spillet
International Karate simulerer en karate konkurranse der to kempere konkurrerer mot hverandre. En kamp varer 30 sekunder. I hver kamp får du enten et halvt eller et helt punkt.
Kemperen, som når de to første hele poeng, eller har flest poeng når tiden utløper vinner. Dommeren avgjør om du får et helt eller et halvt poeng. Når du taper en kamp, er du ute av turneringen, og poengsummen din og fargen på beltet blir registrert på highscore-listen.





Original brukermanual
Les den originale C64-brukermanualen og få mer informasjon om International Karate.

Har du problemer med Commodore 64 spillet, eller vil du lære mer om International Karate, så kan du lese den orginale brukermanualen her (engelsk).


Kom i gang med spillet!
Spill International Karate direkte i nettleseren din: Klikk her!